Erling Haaland
Born on 21 July 2000, Erling Haaland is a Norwegian professional footballer currently playing as a striker for the German football club or Bundesliga club Borussia Dortmund. He also plays a key role for the Norway national football team. At such a young age of 22, Erling is considered one of European football's most exciting attacking talents. This young brilliant football star is known for his athleticism, precise off-the-ball movement, and pace.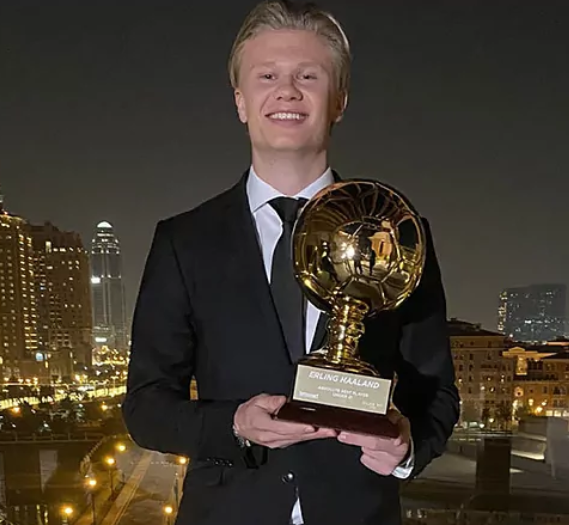 Professional life
Erling Haaland began his career at Norwegian club Bryne FK n 2016. He climbed up the ladder very quickly and showed his potential to become the leader of the next generation. He joined Molde FK one year later but wasn't destined for a long stay in Norway. He then moved to the Austrian side Red Bull Salzburg on January 1, 2019. Since then, the player has been phenomenal. He also became the second player after Kareem Benzema to score goals in three consecutive Champions League games, winning two league titles and one Austrian Cup. Borussia Dortmund was the young talent's next destination, where he signed a contract in December 2019. Since joining the club, big Earl kept on shining, becoming the second teenager to score 10 goals in the 2019–20 Champions League campaign. He also won the 2020 Golden Boy award.
Erling Haaland chose over England when it came to international representation. The player scored a hattrick against Scotland and helped the team to qualify for UEFA U-19 Championship. Thus, he made his senior debut for his country in 2019. In the 2019 FIFA U-20 World Cup, Haaland won the tournament's Golden Boot, after scoring a record nine goals in a single match. Impressed by a string of great performances, he was awarded Golden Boot in Poland though Norway were eliminated in the group stage.
Personal life
Erling Haaland was born in a football-loving family. His mother's name is Gry Marita. Erling Haaland's father is Alf-Inge Haaland, a professional football player playing as a striker in the Norway national team from 1994 to 2001. Erling Haaland was born in England when his father was playing for Manchester City and his father and mother both stayed in England.
Erling Haaland has a perfect childhood memory in England, growing up with two siblings: elder brother Astor and elder sister Gabrielle Haaland. In 2004, the whole family moved to Bryne, Norway, where he spent the rest of his childhood.
Hottest jerseys highly recommended by Bestsoccerstore
Borussia Dortmund Home Soccer Jersey 2021/22
The new Borussia Dortmund home soccer jersey 21/22 is inspired by the classic design of their home kit in 1996-97 and pays tribute to all that has come before it. The main color follows suit with yellow stripes against black shorts, but where do they differ from tradition? A series of small details have been added for old fan's touches--such as pinstripes on sleeves which create an iconic contrast between dark garbs.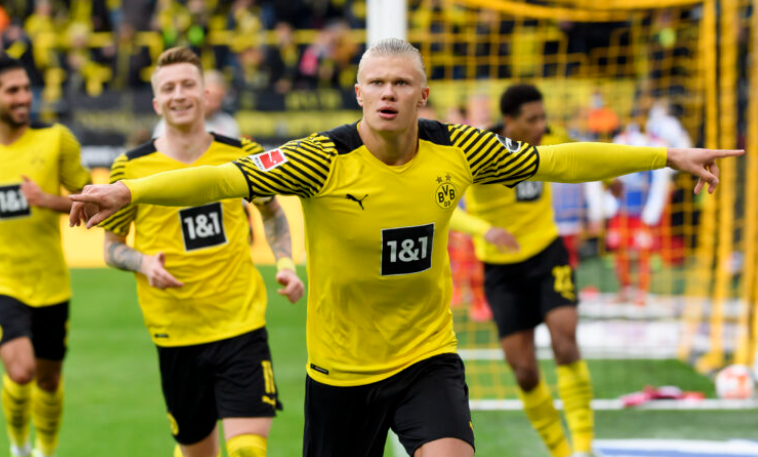 The new Dortmund new kit has a simple yellow V-neck. The club badge and PUMA Logo on the front of the Borussia Dortmund jerseys are conventional designs. The back of the Borussia Dortmund jersey is still the eye-catching club name "DORTMUND", and the player's name will be printed below the number.
Norway Soccer Jersey Away 2021
Norway Erling Haaland #23 Soccer Jersey 2021
The Norway Soccer Jersey Away 2021 has been released on September 1, 2020, together with the new home one. The Norway soccer jersey introduces a clean design based on the latest generation of the Nike Vapor Aeroswift template.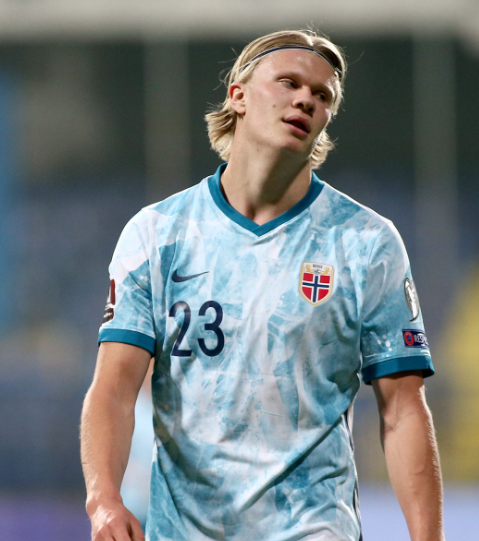 Predominantly blue and white, the trademark zig-zag stripes are navy-white on the Nike Norway soccer away jersey, replicating the colors of the Norwegian flag. The Nike soccer jersey away 2021 boasts a unique design in different shades of blue. This shirt boasts a graphic design reminiscent of icebergs. It's very bold that Nike combines the Norway soccer jersey with navy applications.