Bukayo Saka
Bukayo Saka, born on 5 September 2001 in London, is a professional footballer who plays for Premier League Club Arsenal as a winger and a midfielder for England national team.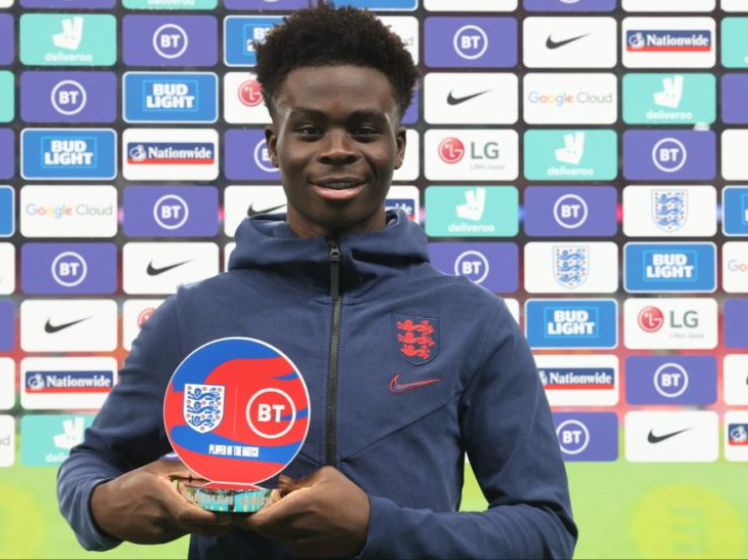 His football career started with a local club side Greenford, Celtic youth academy before joining Arsenal Academy at the age of 7. This English midfielder made his professional career debut for the English professional football club Arsenal on 29 November 2018 against Vorskla Poltava. He came on for Aaron Ramsey in the 68th minute of the match which ended 0-3 in favor of Arsenal. On 1st January 2019, Saka made his Premier League debut after coming on for Alex Iwobi in the 83rd minute. Arsenal won emphatically 4-1 against Fulham. On 19 September 2019, he scored his first professional goal against the Bundesliga club Eintracht Frankfurt in a UEFA Europa League match. He also recorded two assists on the night in a 0-3 away win for the gunners. The 2020/2021 season unleashed Bukayo Saka's full potential as he recorded a total of 7 goals and 10 assists in all competition for the gunners, and to cap it all, he won the Arsenal player of the season for his outstanding performances throughout the whole season. Bukayo Saka in the current campaign was adorned with the iconic no7 jersey worn by notable Arsenal greats such as Robert Pires, Alexis Sanchez, and Tomás Rosicky.
For his performance in England national team, he made his international career debut for the England national team on 1 October 2020 in a friendly match against the Wales national team. This brilliant footballer scored his first international goal for his team on 2 June 2021 at Riverside Stadium, in a friendly match against the Austrian national team.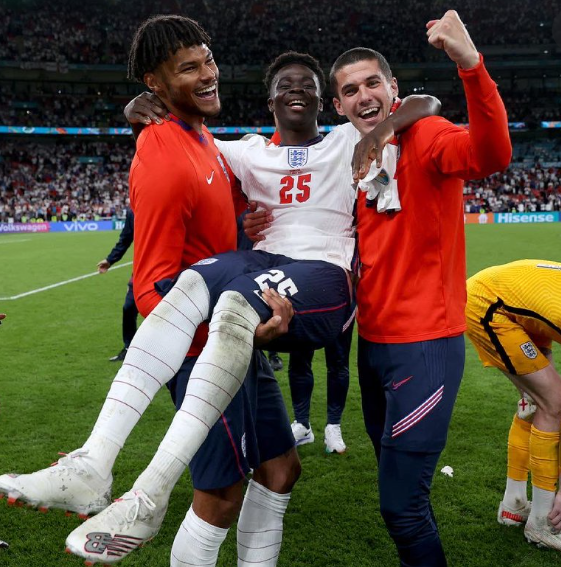 Personal life
This English football star was born into a lower-middle-class family on 5 September 2001 in Ealing, England. Bukayo Saka is originally from Nigeria by virtue of his parent's roots, who hails from the Yoruba tribe in the western part of Nigeria, although he has British nationality.
Saka was named "Bukayo" because it is a unisex name that means "Add to happiness".
Saka has an older brother, Yomi Saka, who used to play for Watford academy before he quit professional football to get a degree.
Bukayo Saka drives quite a few expensive cars such as Ferrari, Range rovee.
Hottest jerseys recommended by Bestsoccerstore fans
Navy was a prominent feature on the Arsenal kits of the late 1990s and the last time the color was such a strong element of the home shirt was back in 2014. But now red becomes a crucial color in Arsenal home jersey adding a sense of inspiration.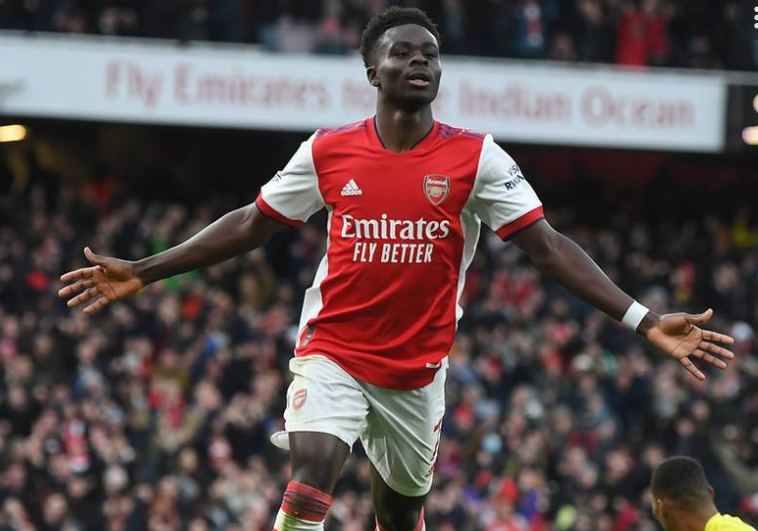 The Arsenal jersey follows the club's current red color with white sleeves but has white panels on both sides of the body, similar to the style of Ajax's famous jersey. Adidas Victory Stripes in navy blue on the shoulders, and navy blue becomes a detailing color on the cuffs and collar, which means this is the first time since the 2013-4 season that the Arsenal home kit has appeared in anything other than red or white color.
The England Euro 2020 home jersey is a predominately white shirt with navy and red as accents. It has an interesting design on the side that features dark blue stripes in between two thinner ones all the way down the sides of the shirt. The Nike brand and England badge stand out brightly in the center of the shirt.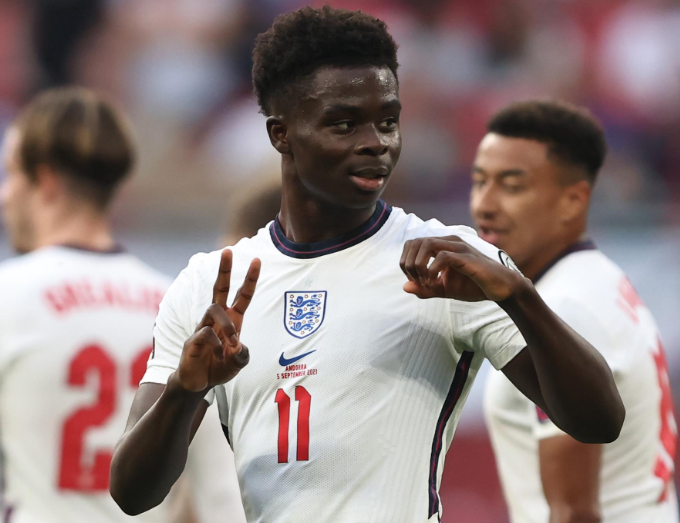 Bukayo Saka's speed, skill, and ability to create goals have made him a fan favorite, and his jerseys have been flying off the shelves. If you're looking for a way to show your support for the Gunners, then this is the perfect way to do it. Whether you're wearing it to the match or just around town, the Arsenal jersey or England jersey is a great way to show your support for Bukayo Saka. Get yours today!